The Dolly Wagglers/Flying Cardboard Theatre welcomes you!
Puppets for the people of Detroit and Beyond
Coming up: Detroit Cantastoria Fest 2022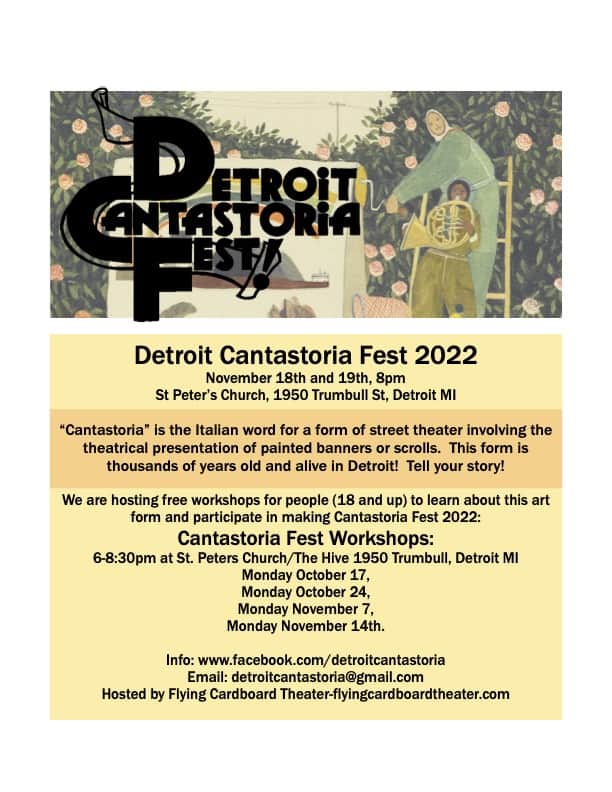 Recent Work: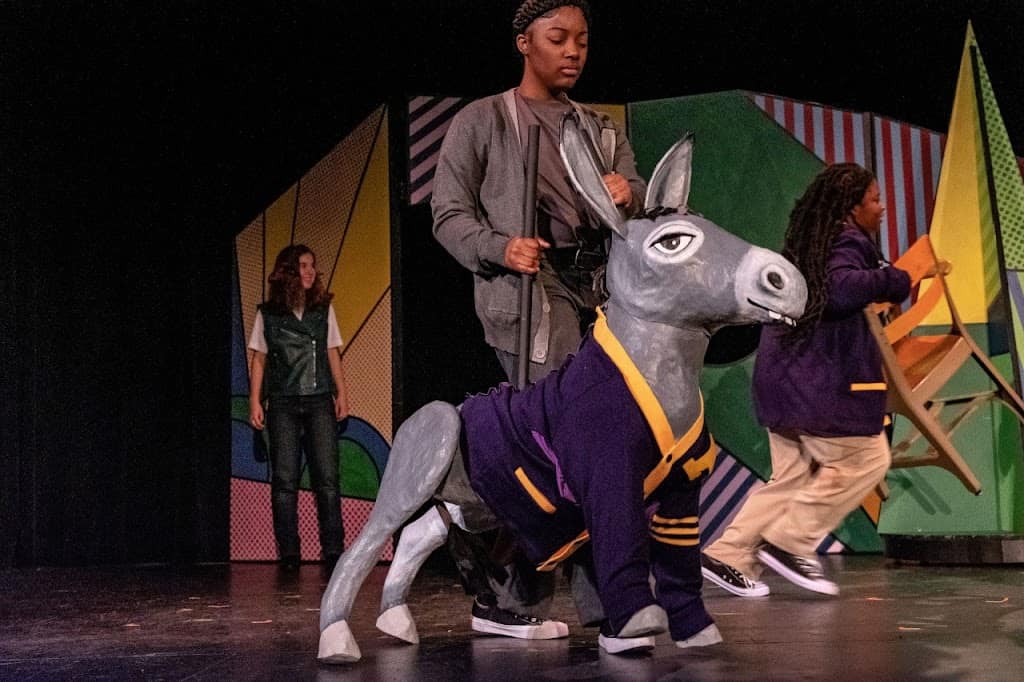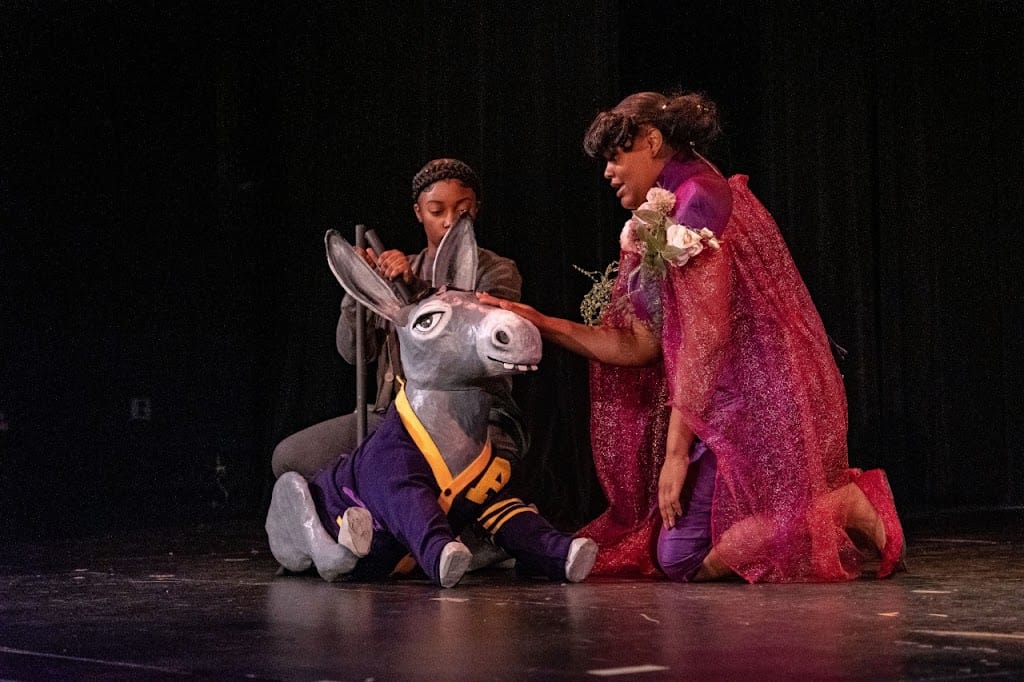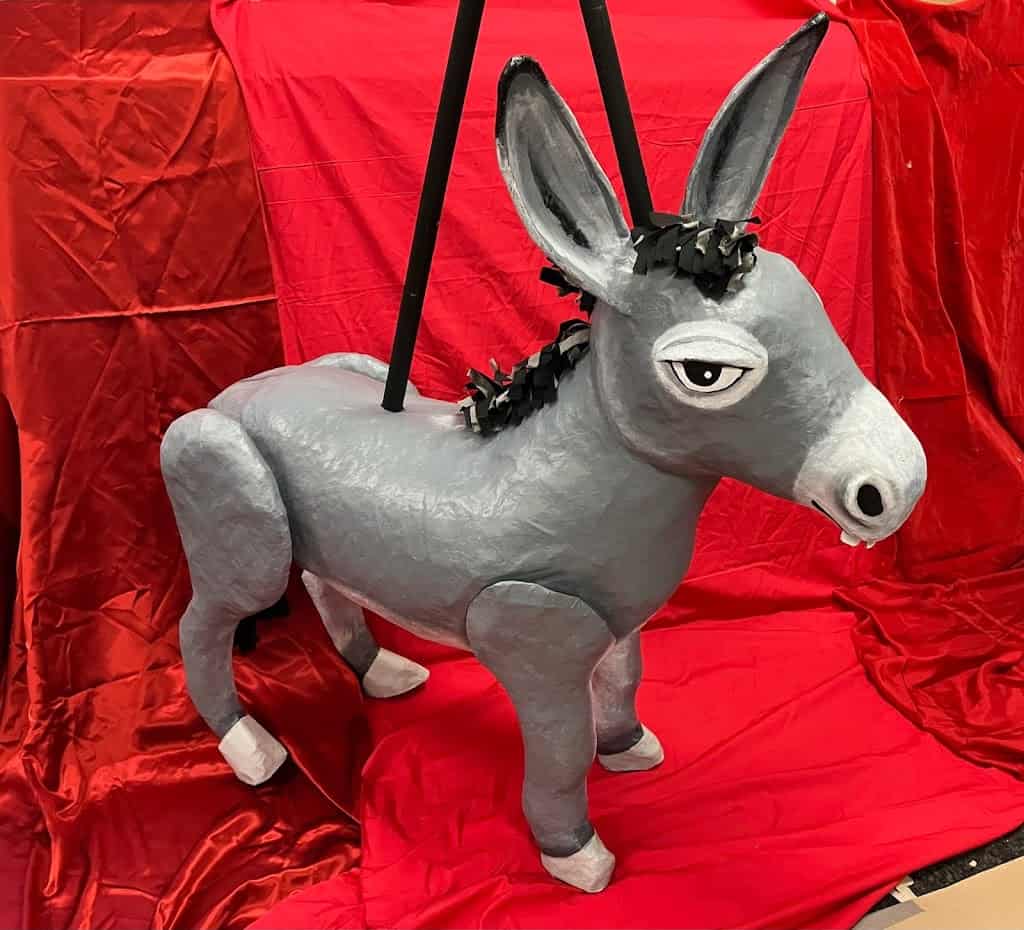 "Bottom" the donkey, created by Lindsay McCaw for Shakespeare in Detroit's Youth Theater production August 2022.
Flying Cardboard Theater's Summer 2022 show: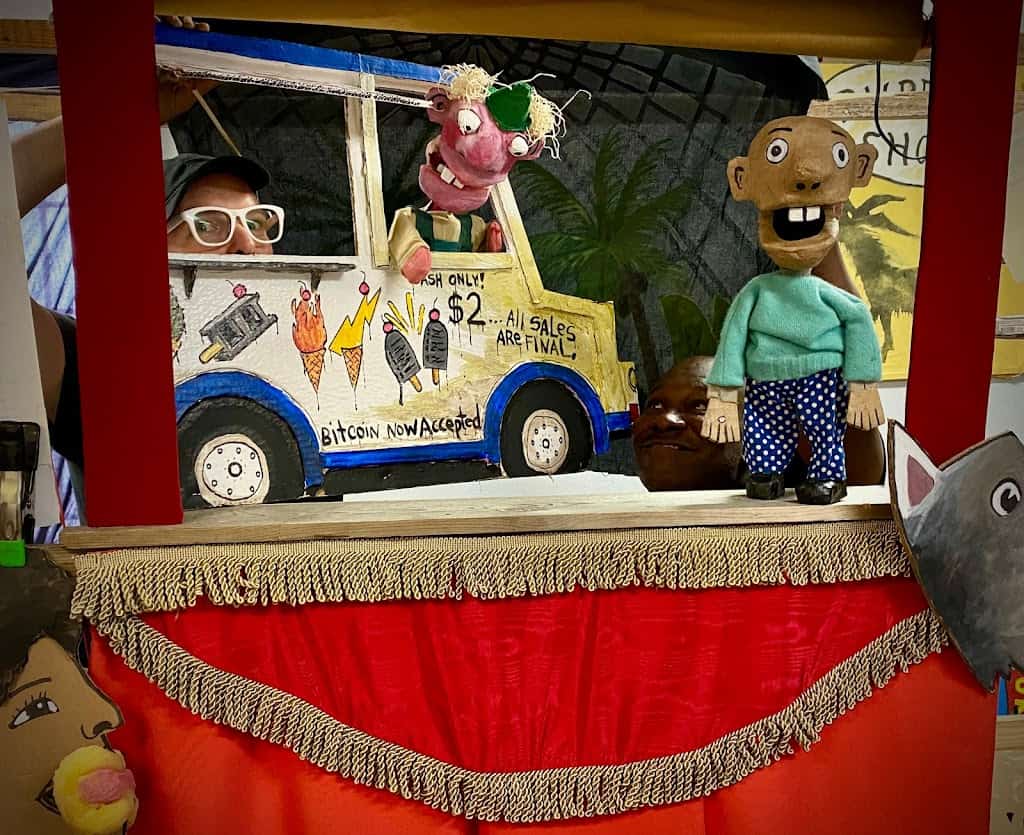 "The Adventures of Kitty Montellier"
Made to be performed indoors or outdoors. We are currently looking for summer bookings. Coming soon to a theater or park near you!! Here are some pics from the first two shows…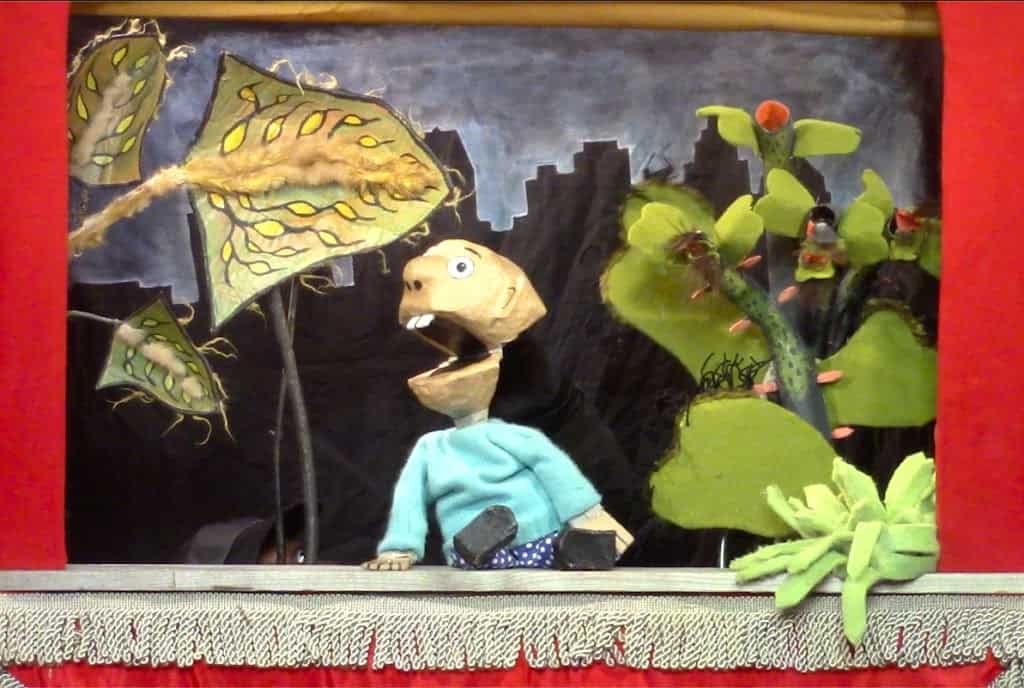 Dimitri communes with the plants.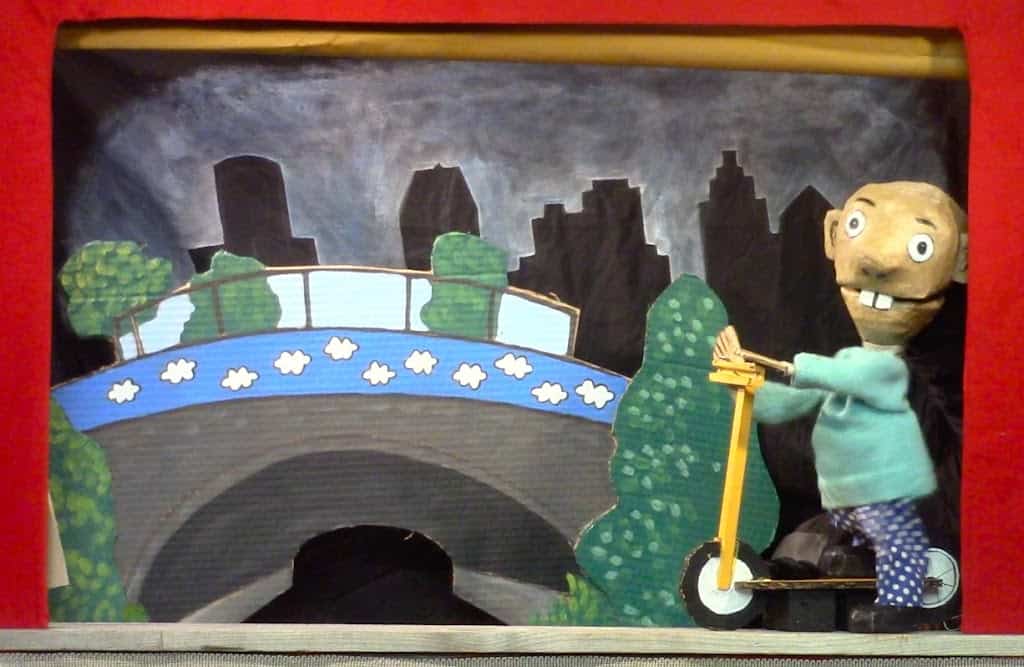 Dimitri rides through Detroit and scooters past interesting landmarks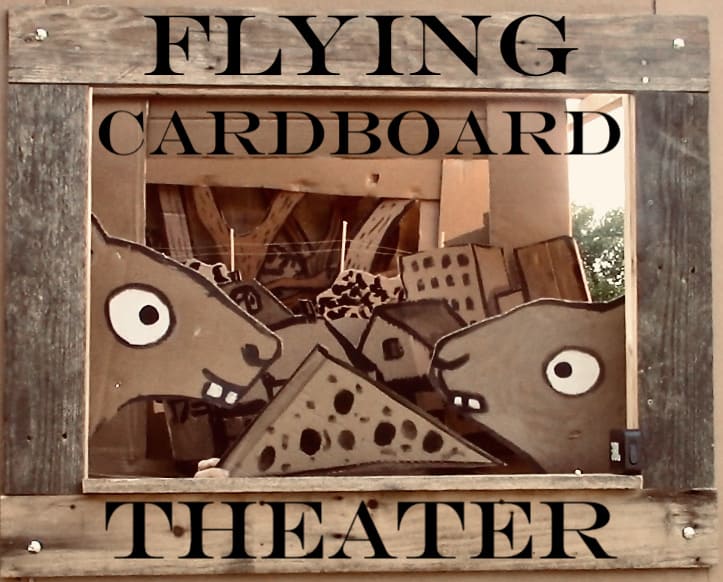 With support from: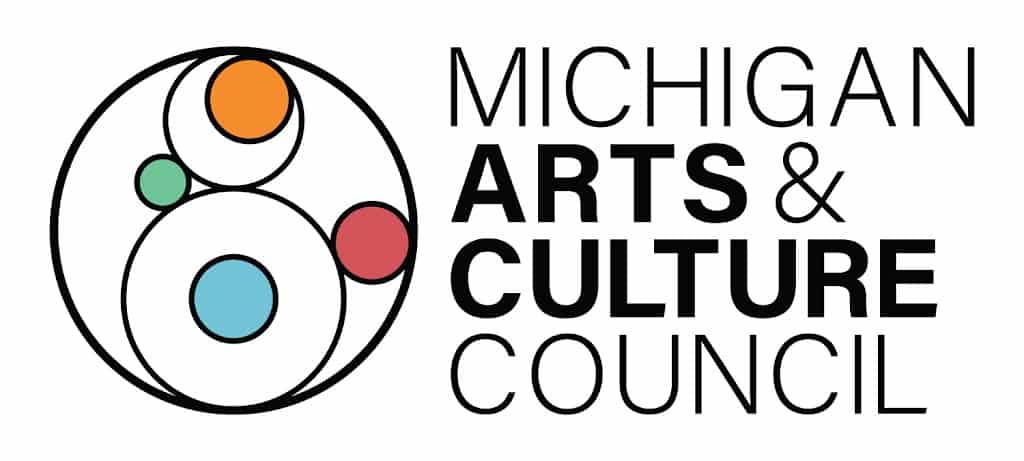 Spring 2022:
Eastside Minivan Parade/Boblo Islanders video:
also Spring 2022:
Puppets for Mosaic Youth Theater's production of "Mwindo" an African folktale. Look for shows all over Detroit!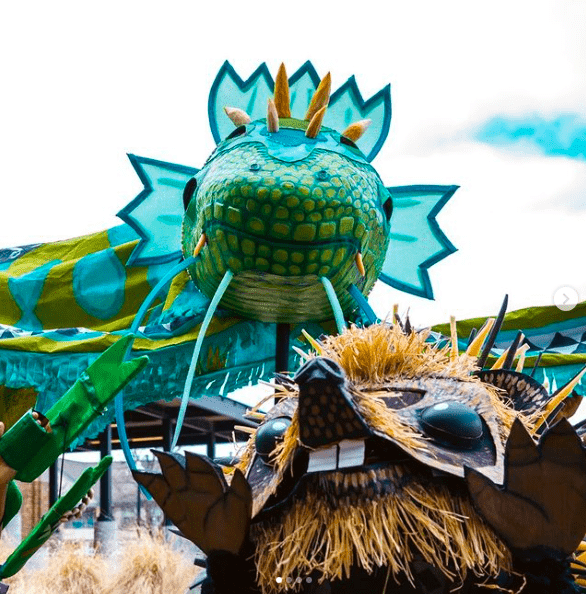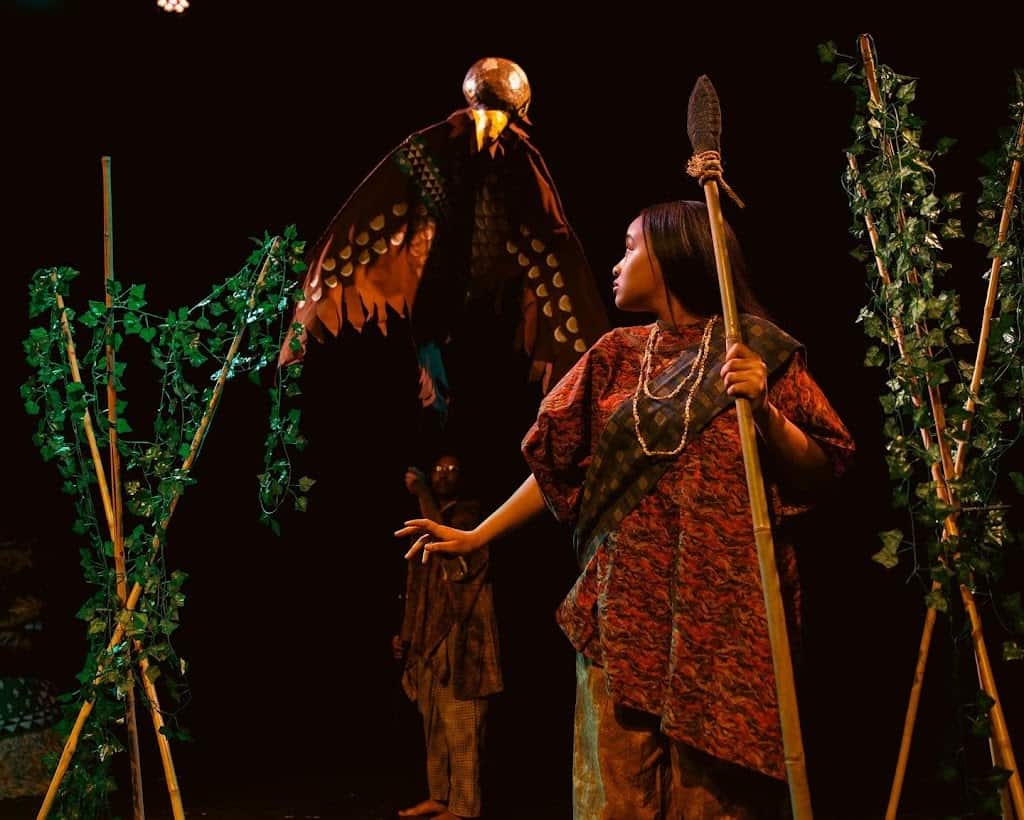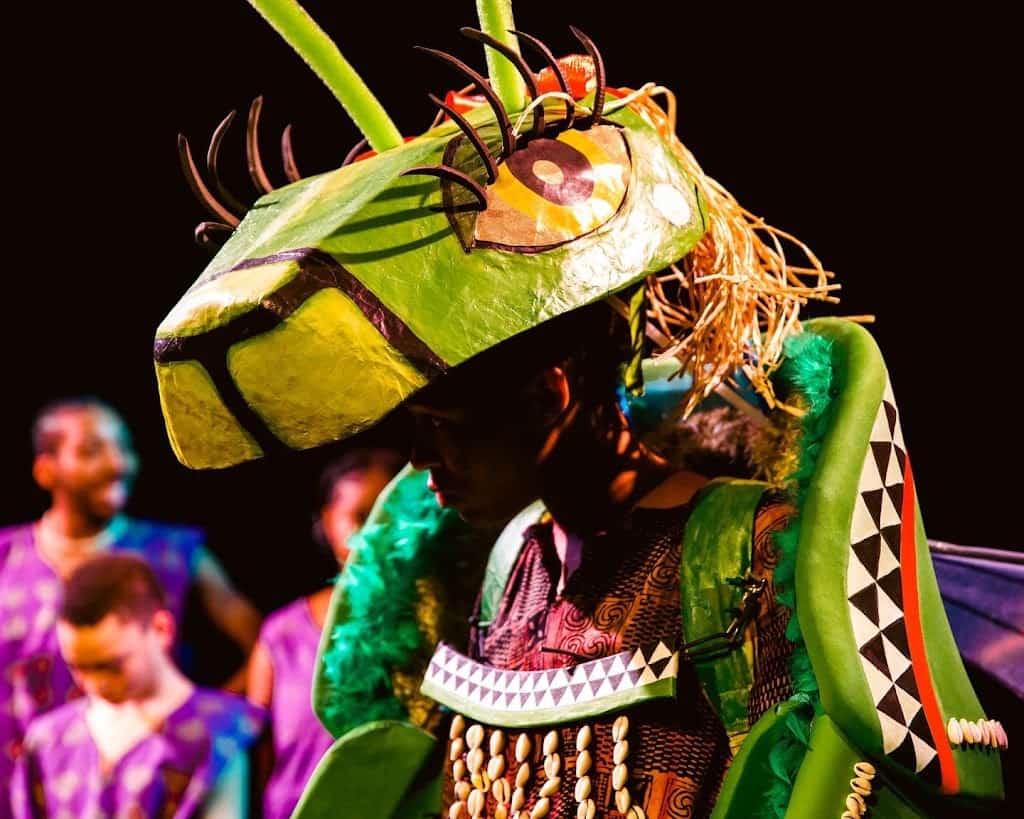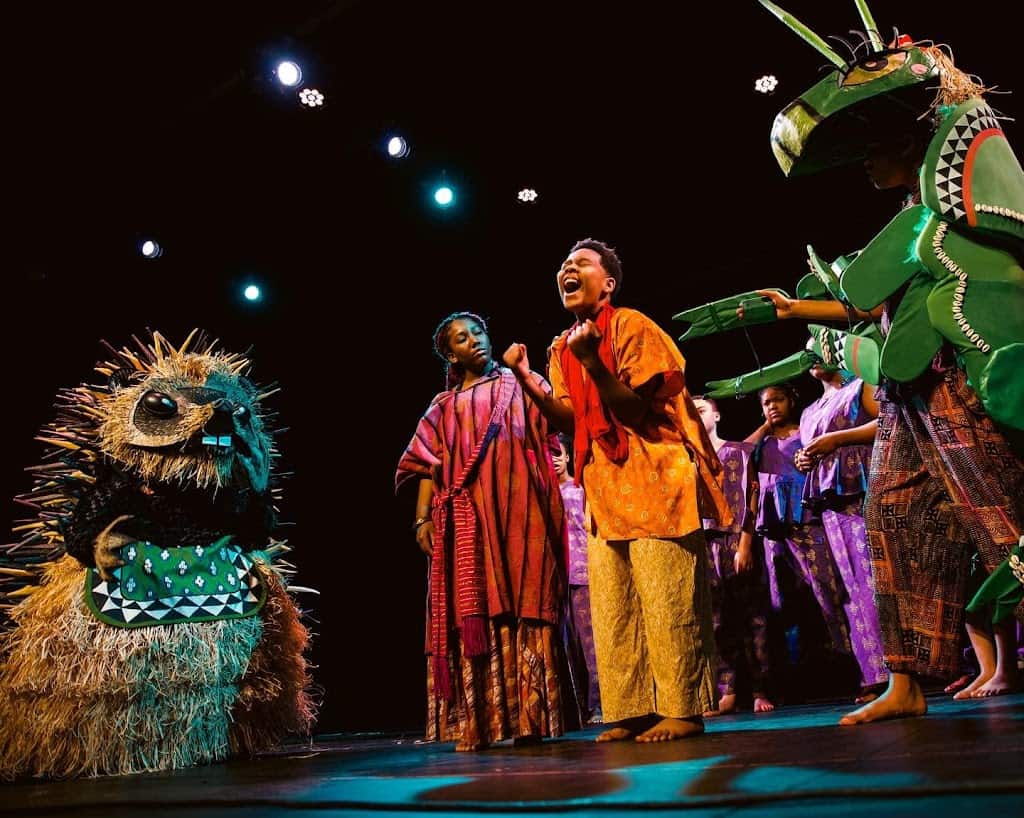 These puppets and more were Built by Lindsay McCaw, Kristi Ternes and Monty Etzcorn working with CMAP (Carrie Morris Arts Production)
Detroit Cantastoria Fest 2021!
Our First All-Local Cantastoria and Cranky Show
Featuring: local issues, tales of struggle, pieces of Detroit's past illustrated, spicy tales of women's liberation, and songs for the unsung heroes…. November 19 and 20, 2021 at the new home of Flying Cardboard Theater: St. Peter's Episcopal Church in Corktown!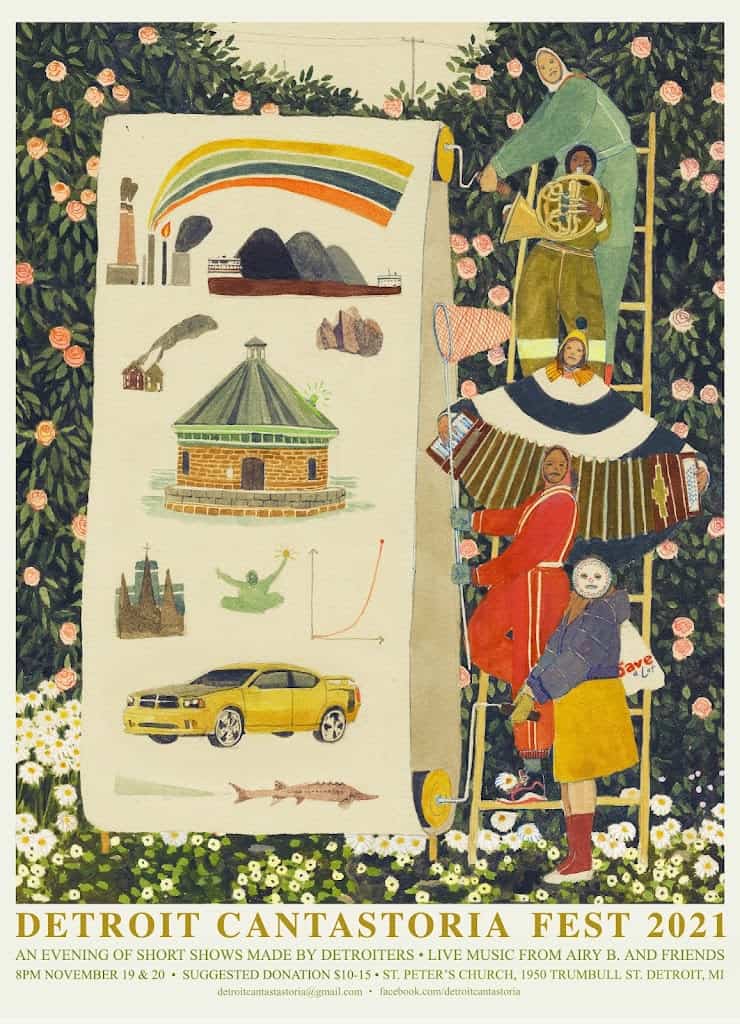 (poster by Pat Perry)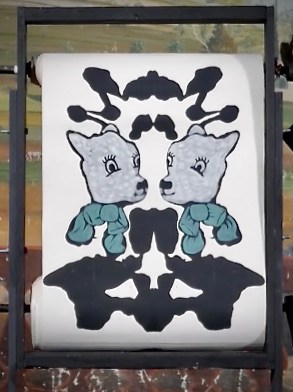 Click this picture for a video…
"Cantastoria" is an Italian word for a form of street theater where a narrator tells or sings a story while gesturing to painted banners…An ancient form of theater for the people of Detroit and the current situation–
click here for our Facebook page!!
click here for video from the show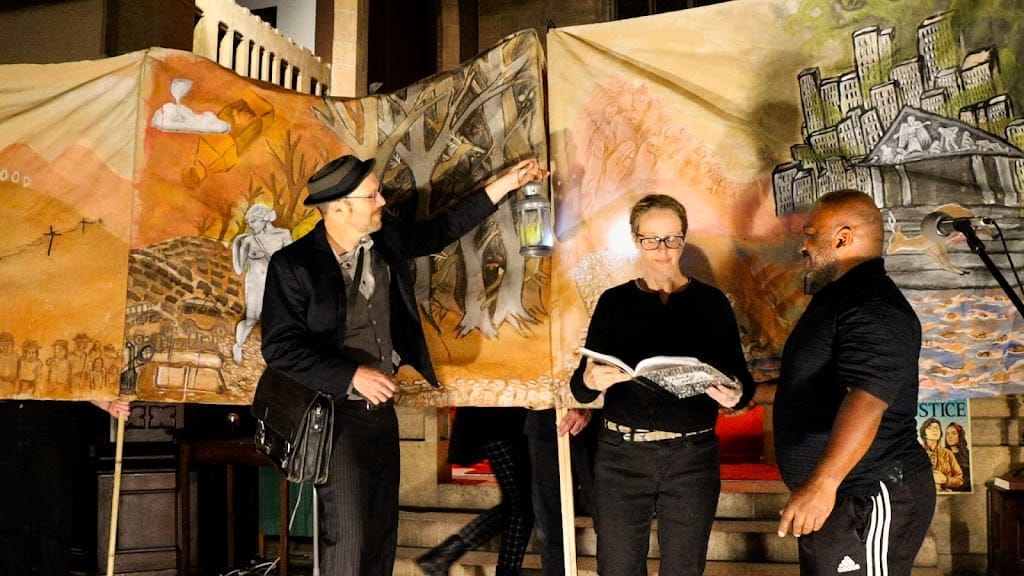 "A Page From Woody Guthrie's Notebook" collaboratively illustrated/performed by Cantastoria fest ensemble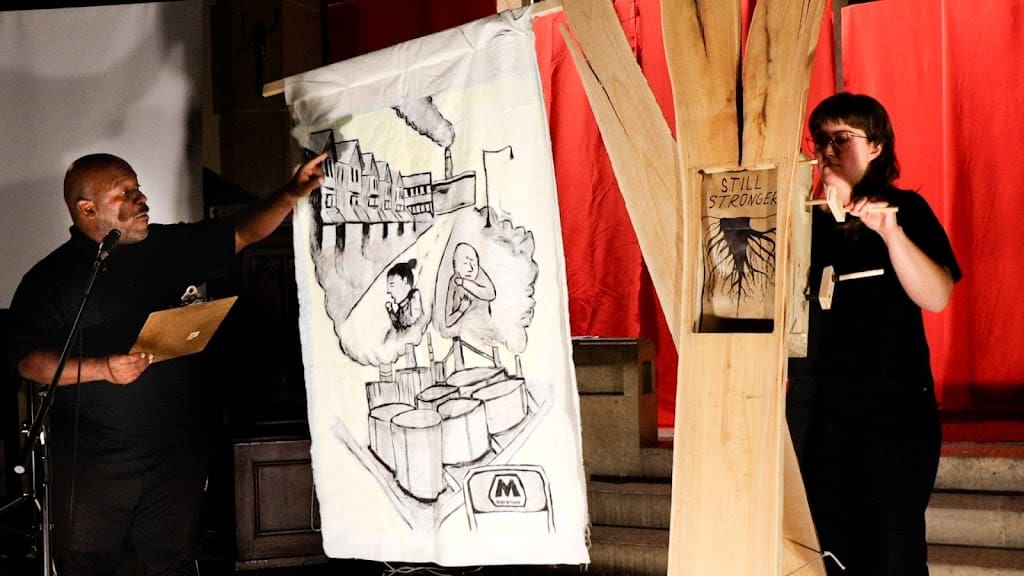 "Sing: Story of A Tree in Detroit" Zach Kolo + company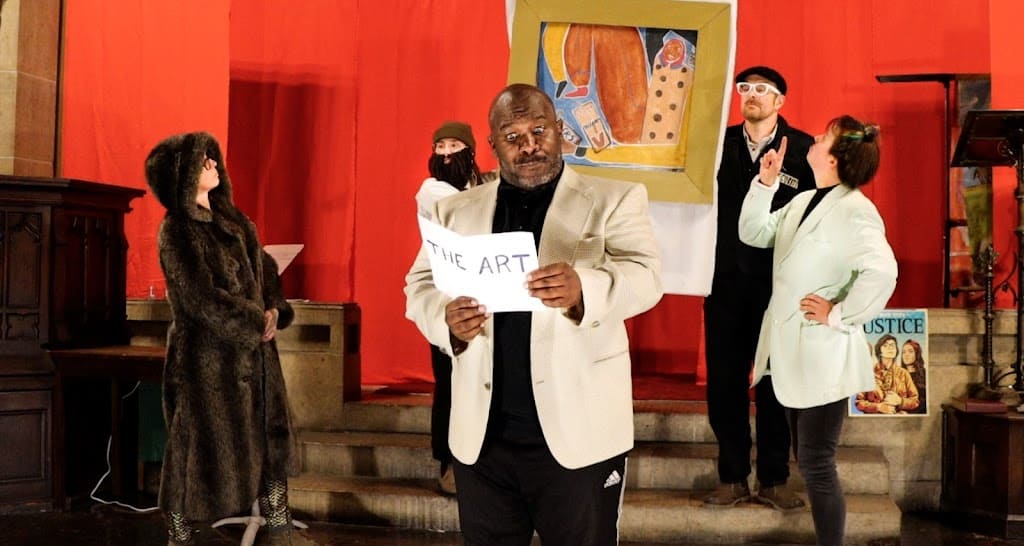 "Soup" created and performed by Cantastoria fest Ensemble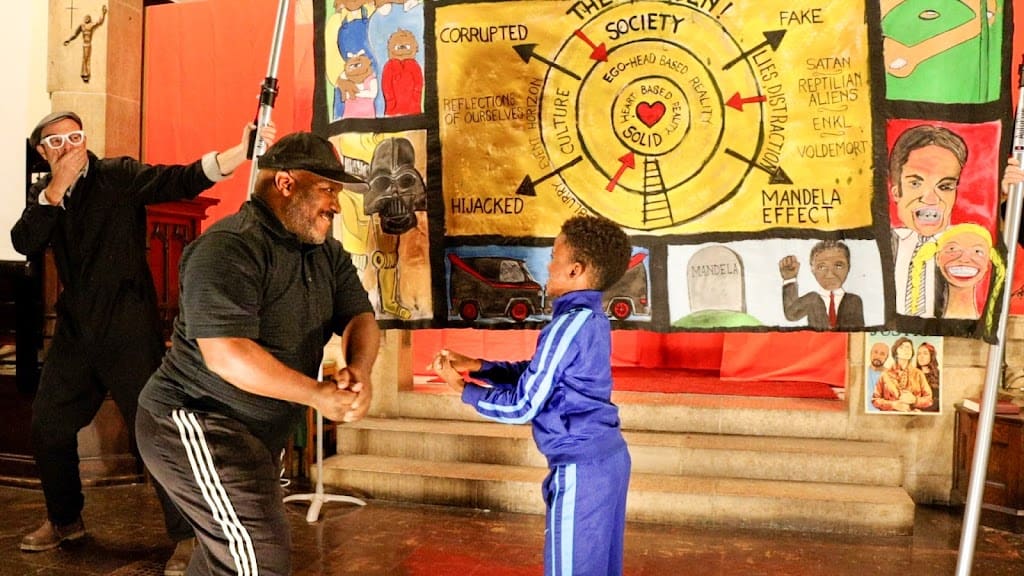 "The Mandela Effect" Written and performed by Oliver Pookrum, illustrated by Jason Hicks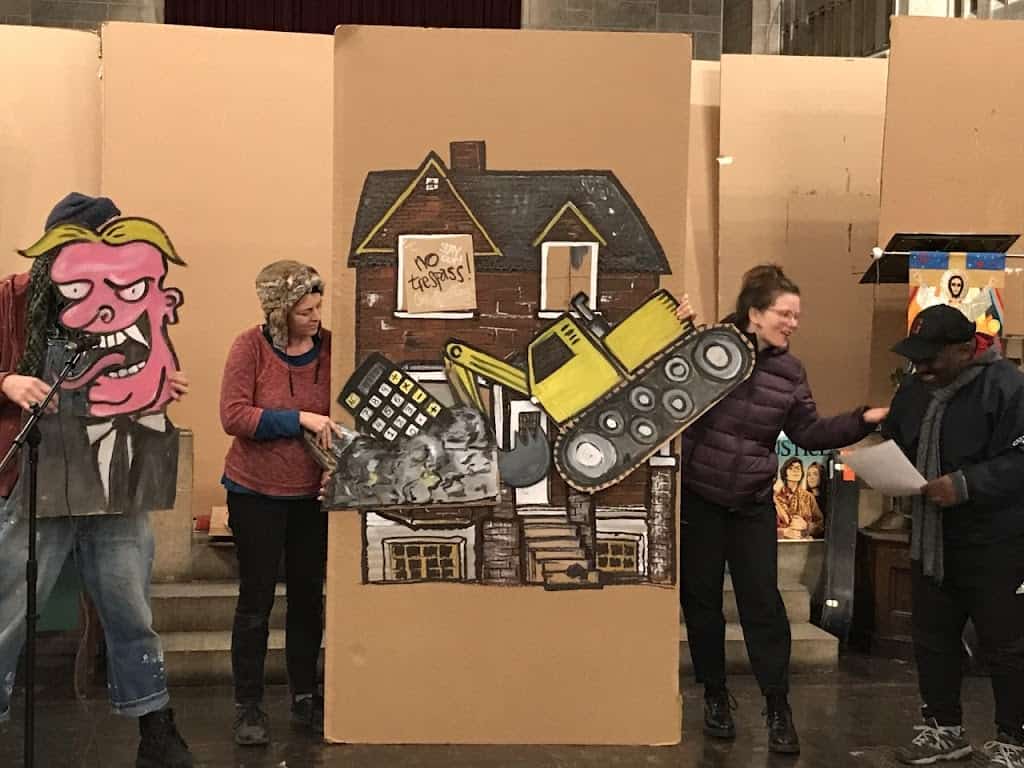 This is from "How to Fix a Detroit House" a show that began with a group writing activity and was completed in the workshops by the ensemble.  From our rehearsal 11/15/2021
Here are two classic shows from Flying Cardboard Theater's past: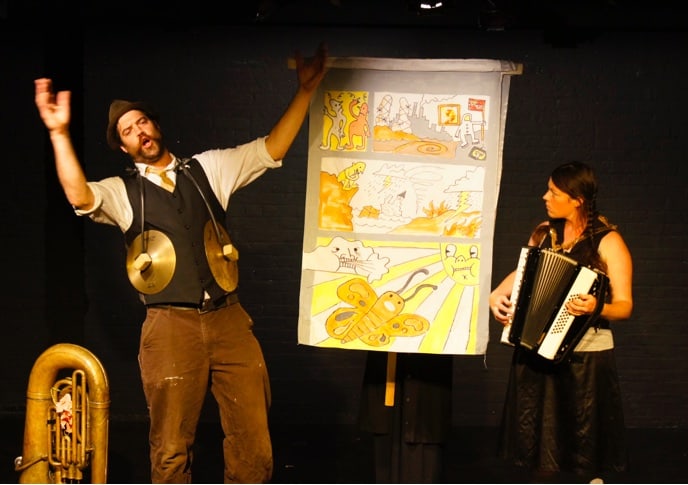 Lindsay and Adam perform "Poke your Finger out Polka" Cantastoria
click for Banners and Cranks Version
click for raucous version in CT tavern
Check out this awesome show by Jason Hicks/Papel Machete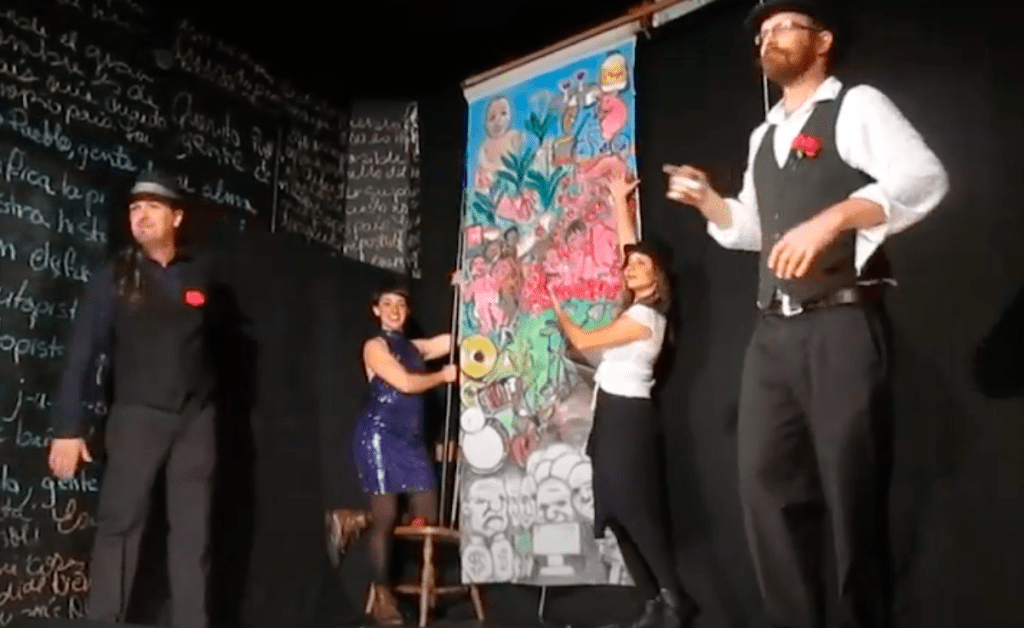 Recent Work from Flying Cardboard Puppet Theatre:
"Squirreled Away" Debut at Detroit Puppet Slam with Jason Hicks and Kristi Ternes, Music by Joel Jackson and Walter Prettyman-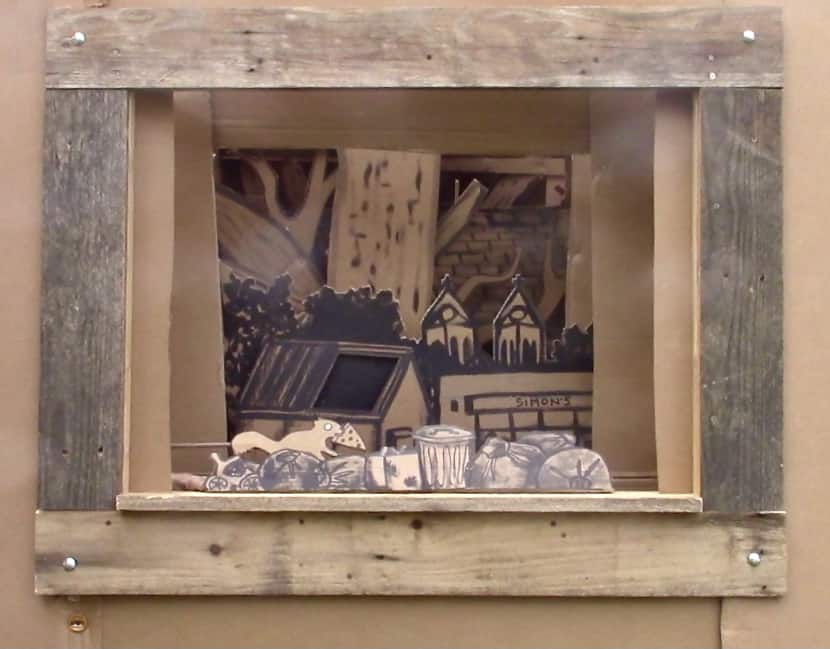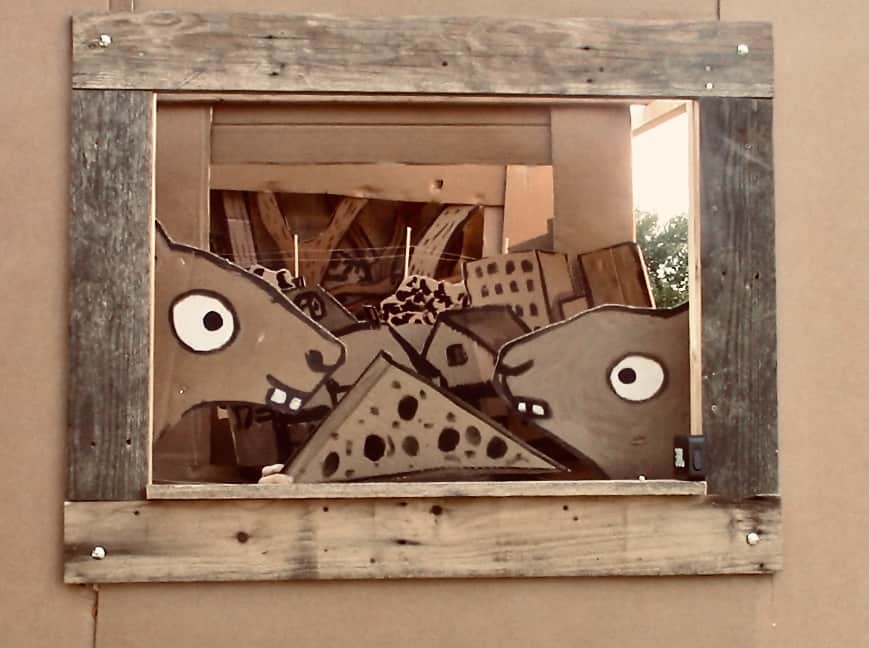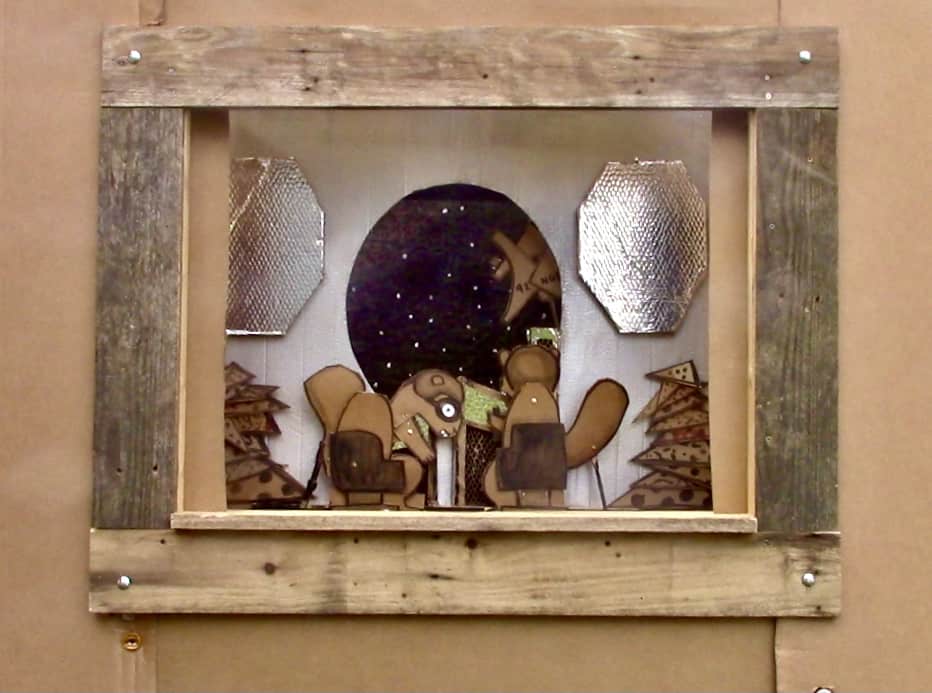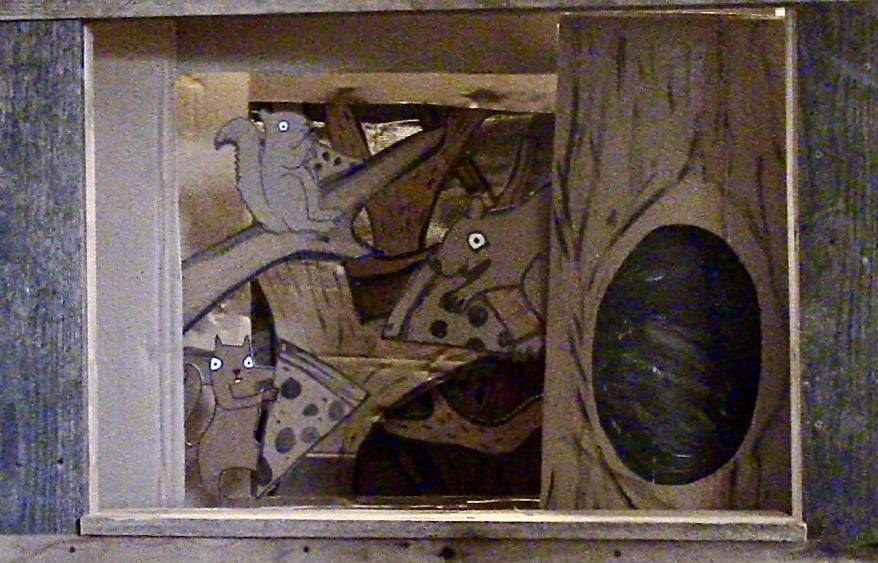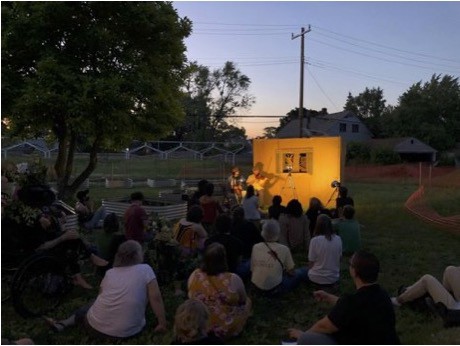 Lindsay's Favorite Puppet, Rosie the Turtle:
This is one of my favorite puppet creations, from the Mayday Parade (Minneapolis, MN). Rosie the Turtle represented the long, slow process of fighting for workers rights.
Summer 2021–"ADVENTURES IN DREAMLAND"
Episode 1: Weird, Unique and Awesome
Episode 2: Ginormous Earth School
Written and Directed by Oliver Pookrum and Lindsay McCaw and the CMAP company. July 17, 18, 31, Aug 1, 2021
Click to see a sample of the show!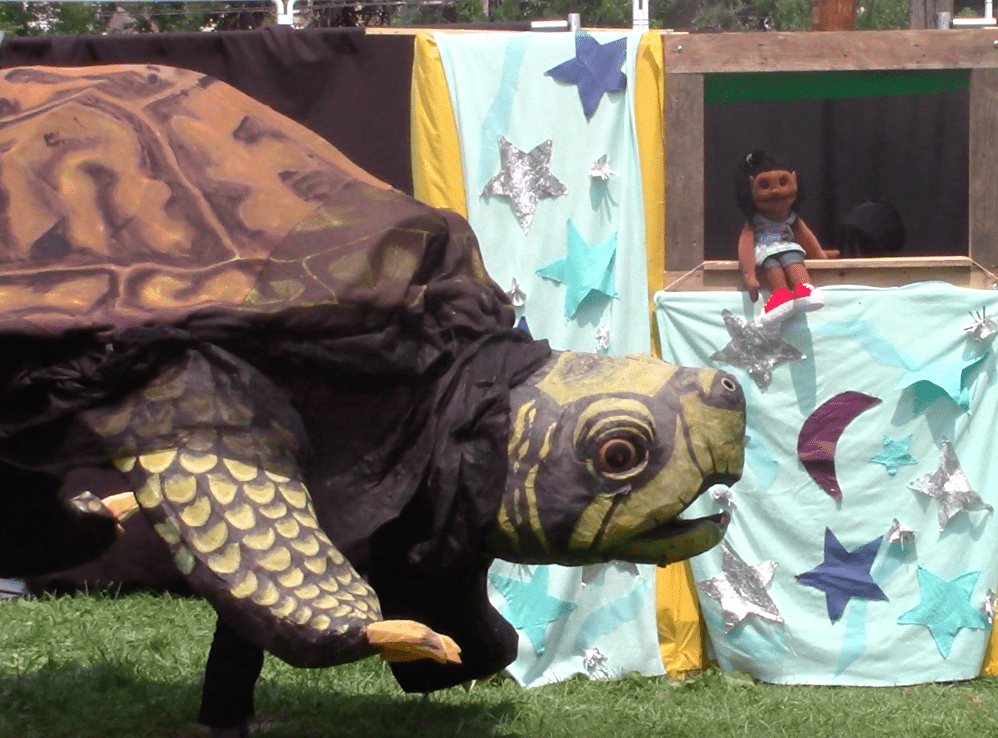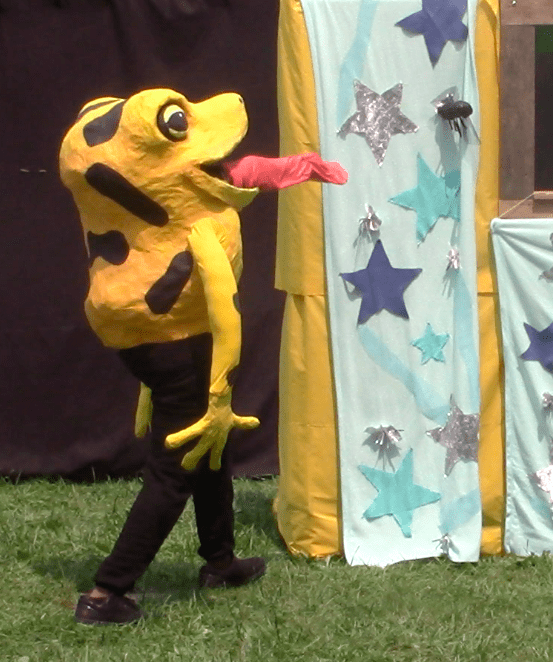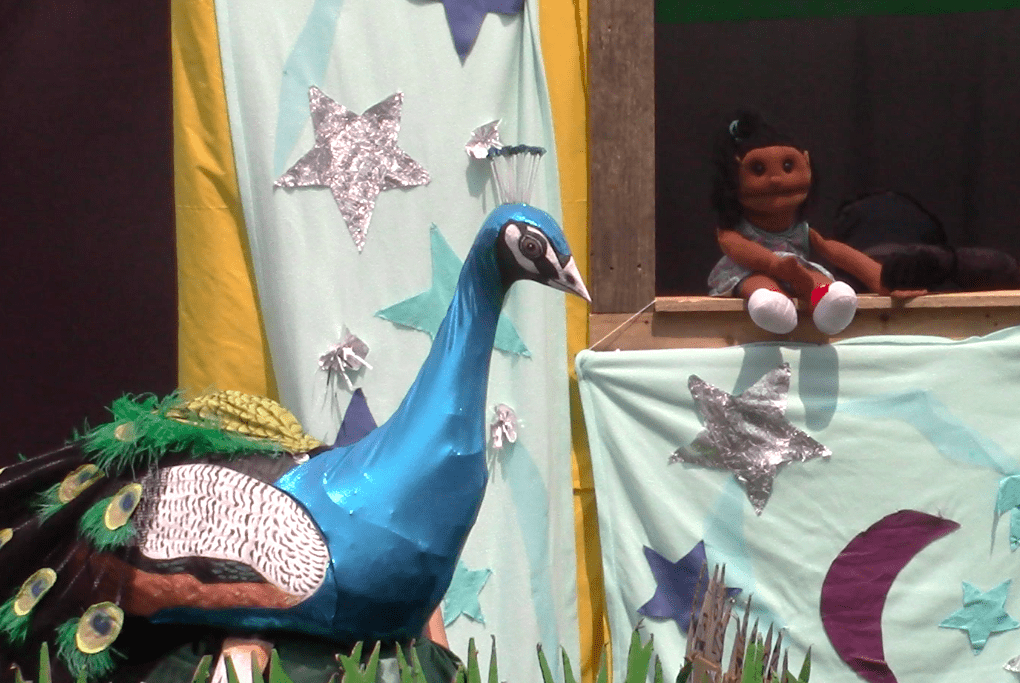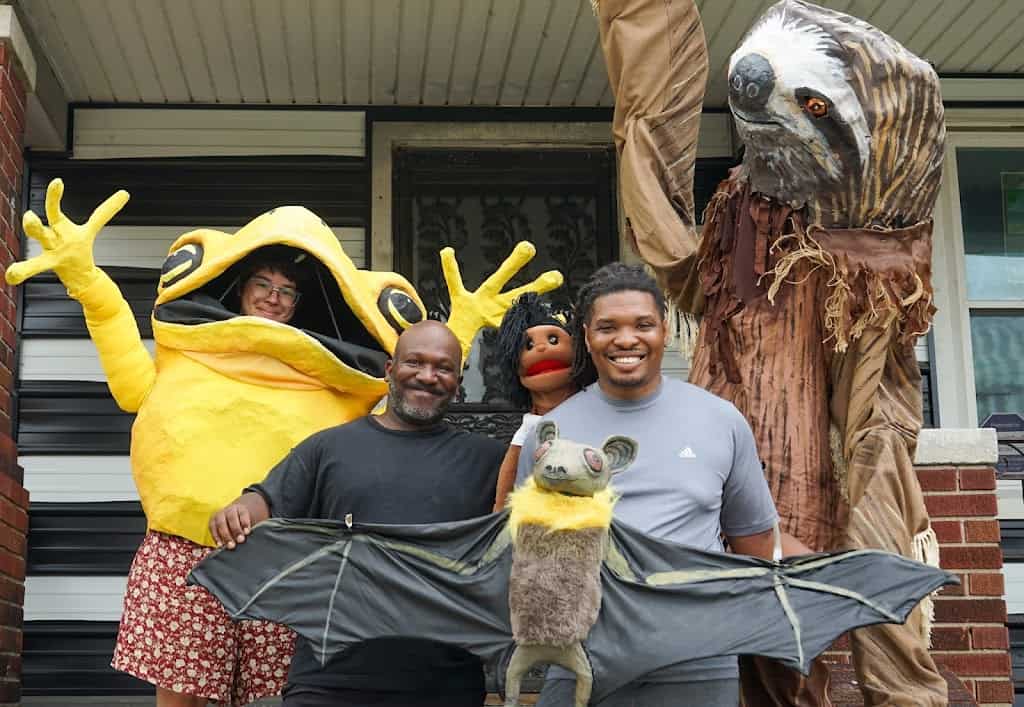 Recent Work: Zoo Shows with CMAP.
Check out these puppets from the Detroit zoo series! The gorilla show was about Coltan Mining. The tiger was in a show about Palm Oil. The Set on the bottom is for a show about endangered frogs. They are important issues as well as fun puppets.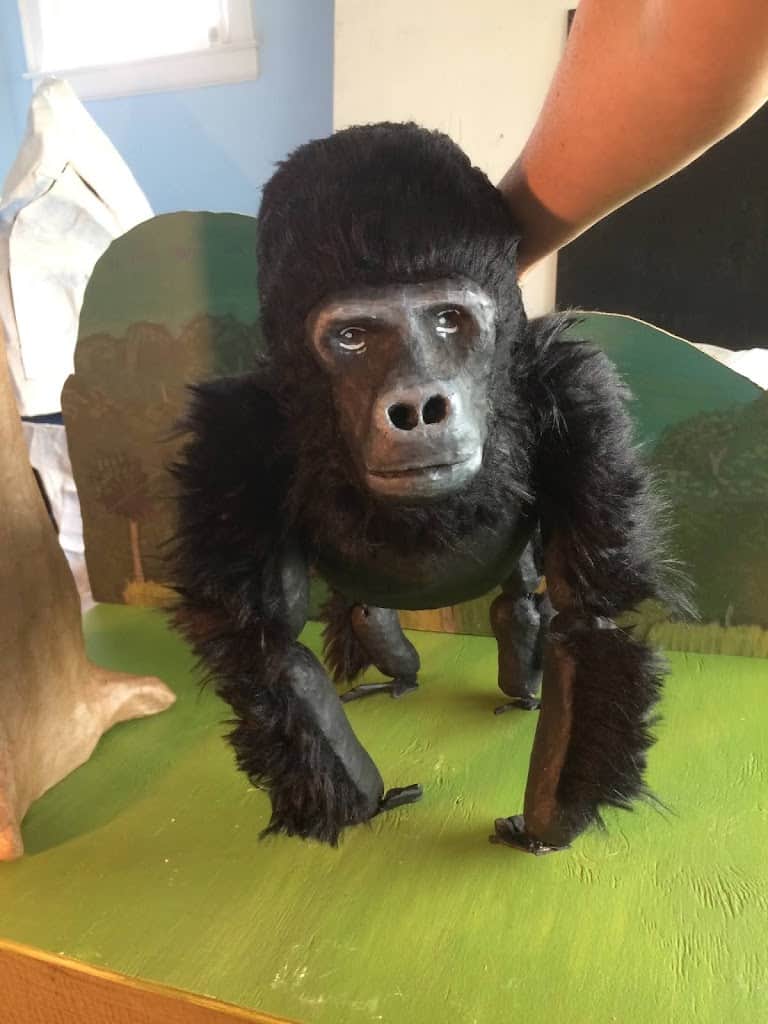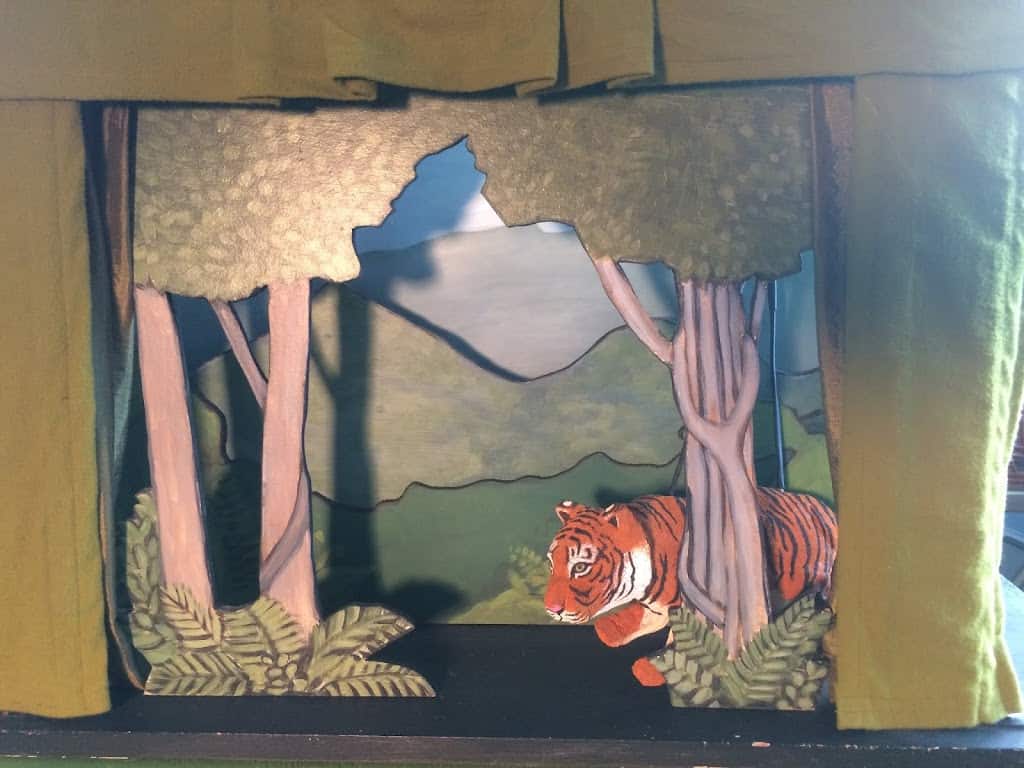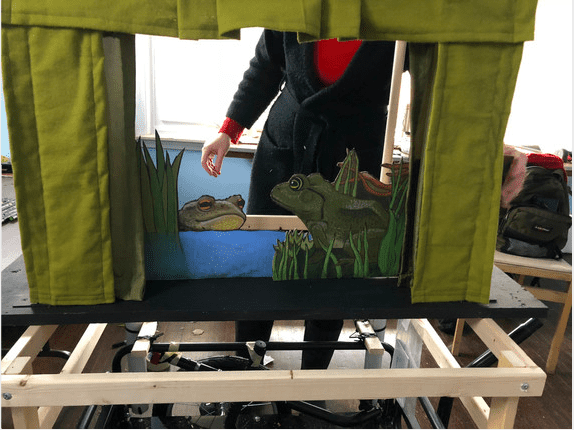 November 2020: "A Mortal Danger" from Flying Cardboard Theater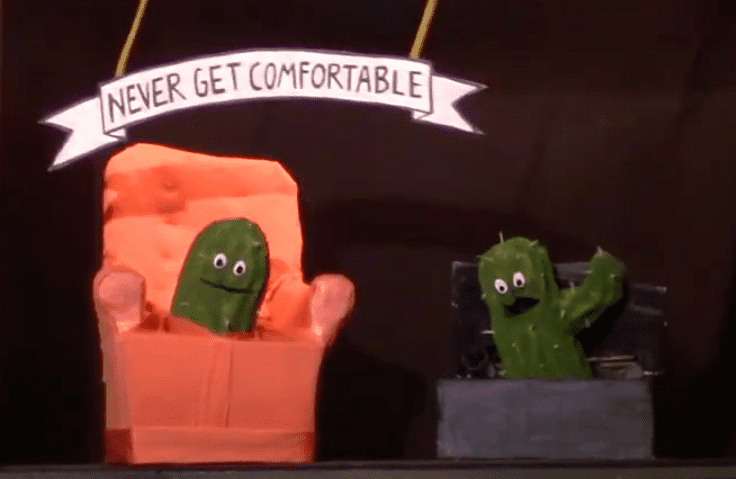 A work-in-progress shown by Cafe Concret "Constellation Cabaret #37". Please stay tuned for more from these cactus guys!
France 2019:
Lindsay ended up on the cover of the Puppetry Journal as a part of the "Honey Let's Go Home Opera" from Bread and Puppet's performance at the International Puppetry Festival in Charleville, France (I'm the one in blue, looking up!):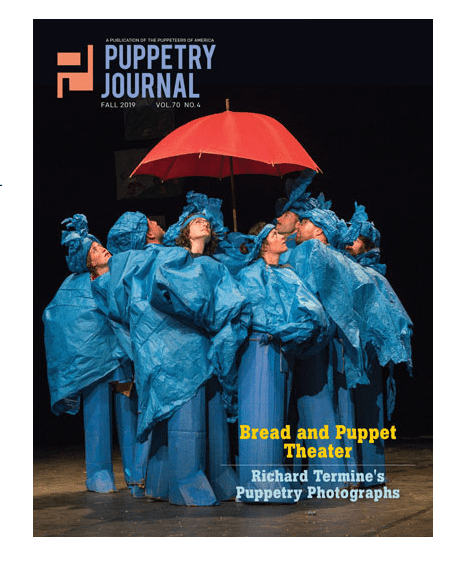 Our workshop with "Attac," a French Environmental/Economic Justice Organization, produced these skeletons representing corporations that Environmentalists have sited as destructive.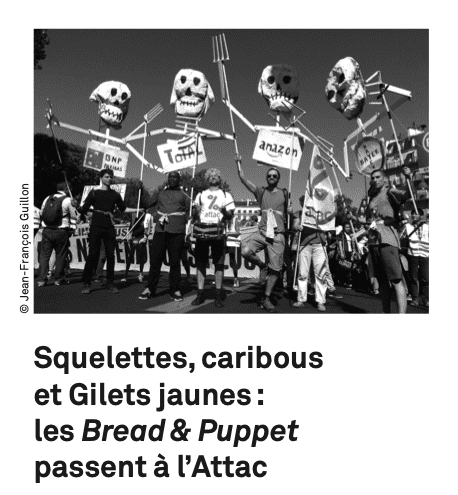 Check out Randy and Hazel- a couple-a dummies:
Dr. Randy Clifton's Internet Debut!
this piece was made for the Detroit Puppet Slam hosted by CMAP April 2020
A Dolly Wagglers Classic: "The Woodchopper-Opera"
A cautionary fairytale about about appropriate technology shown here in an abridged version This is perhaps my favorite show we ever made.
This is from the Open Eye After Dark Toy Theatre Festival 2011.
"Delicado" toy theater show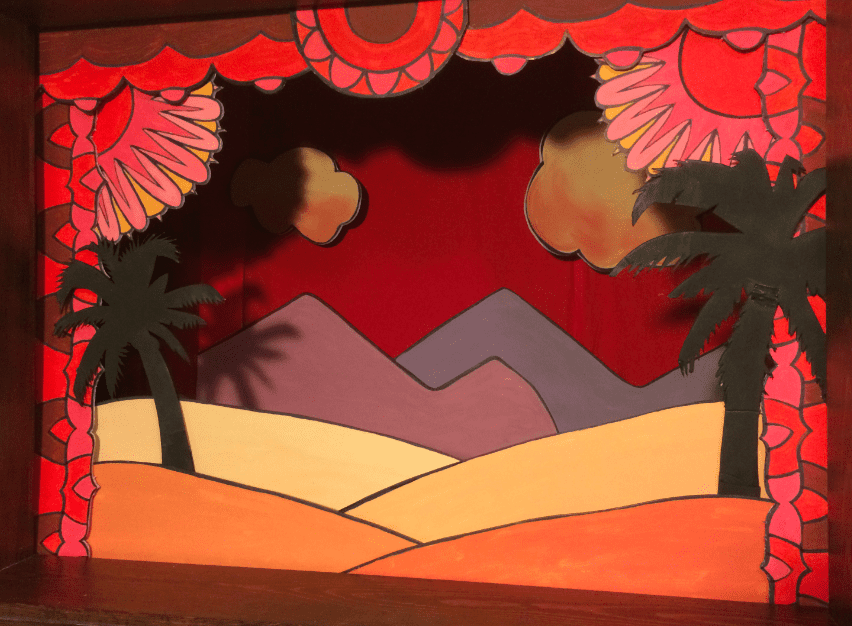 From Great Small Works Virtual Toy Theatre Festival, 2020
Entitled: "Delicado" the last instrumental number 1 hit
Made and performed in 24 hours in our kitchen! You can do it yourself!
Check out this Event from November 2019, Trixie's Bar in Hamtramck, first ever VELVET PAINTING SHOW!
The artform of imagined paradises and evocative portraits. Help reclaim this often misused and misunderstood art form!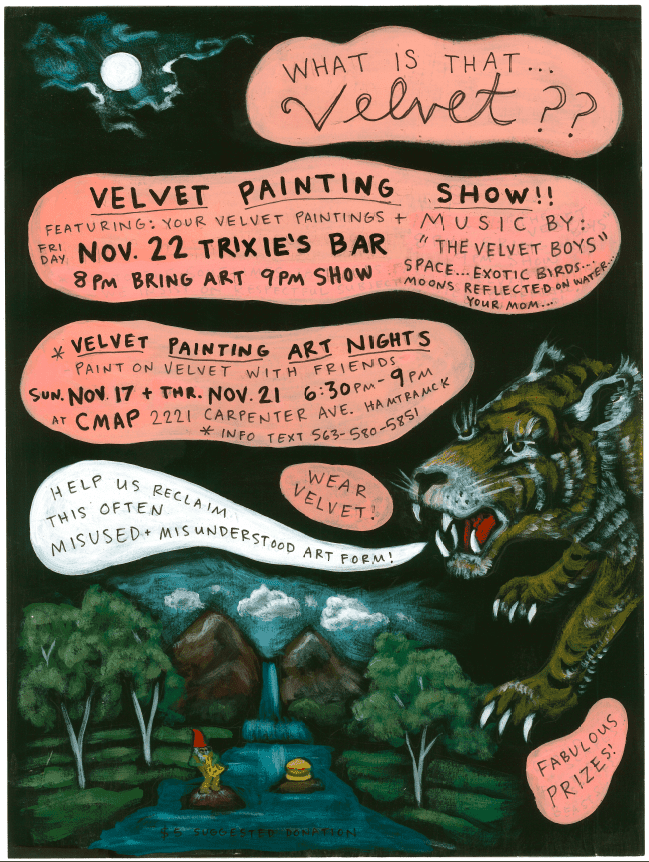 These are two paintings done by yours truly, (L. McCaw):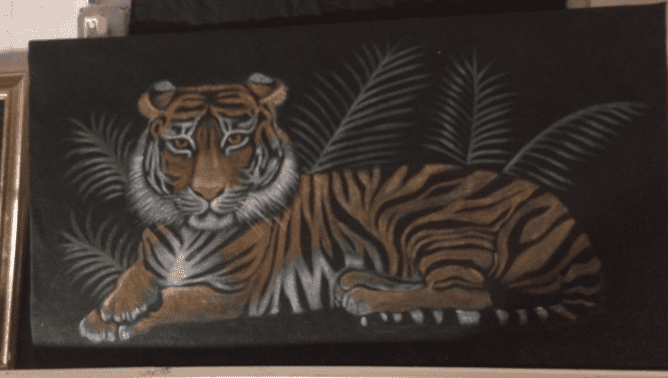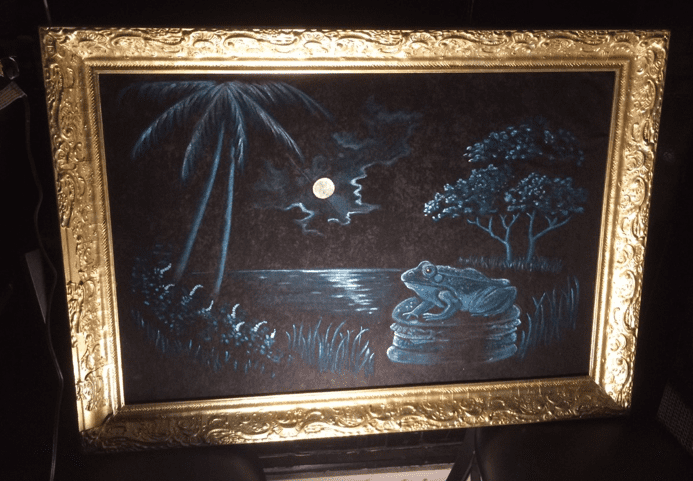 Save your paintings for our next velvet painting event!
A Dolly Wagglers Classic: "Gross Bliss"
This show debuted in Putney, VT at the Sandglass Theatre in 2013. We took it to Detroit and Ypsilanti in 2014. "Gross Bliss" is about the struggles of artists, carnivorous plants and the quest for happiness in modern life. Music by: the brave and talented Gregory Corbino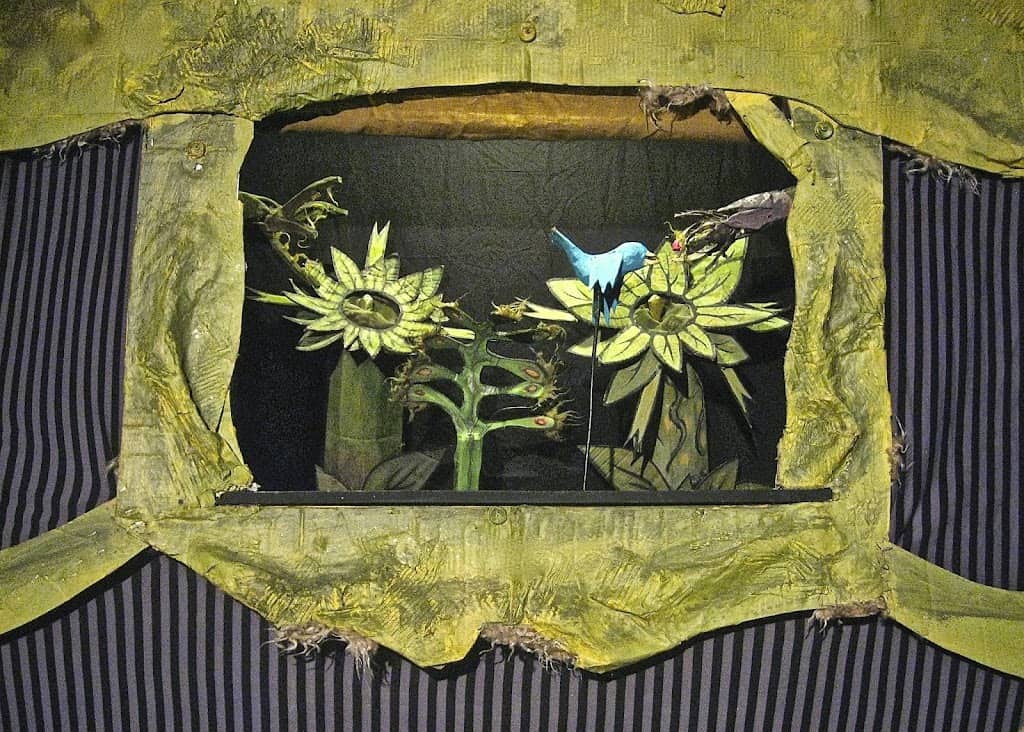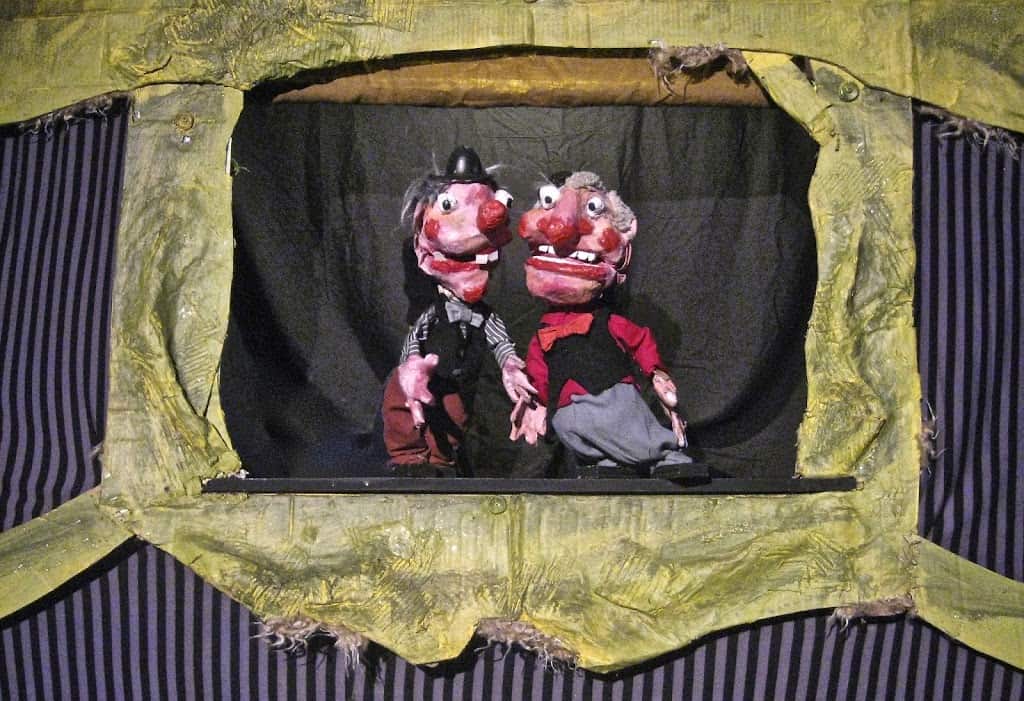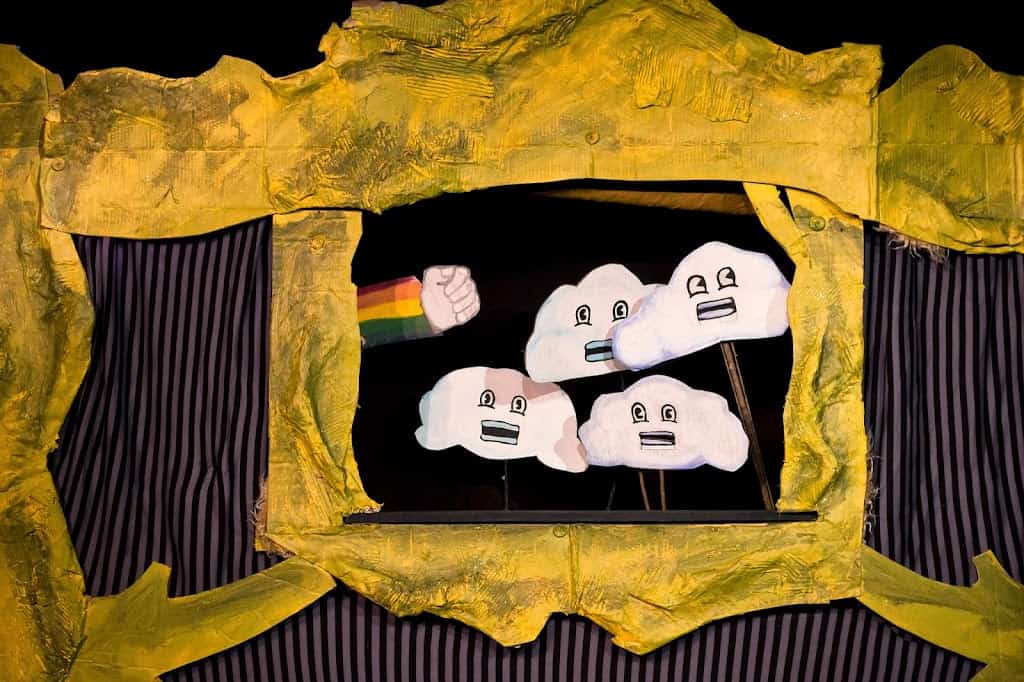 The following is a short clip from our first performance of "Gross Bliss:"  A full version is available on "youtube"
Recently Discovered Footage of: The Mystery of Ice Mountain – A Dolly Wagglers' Show for Kids-
Recently Discovered Footage:
"The History of Fun" cantastoria. Only performed once! 2015
A madcap tour of the origins of humanity and the quest for "Fun." By the end you may not be sure what fun really is any more.
"Nashville Zoo"
Cranky Show/Song 2019
Written and directed by: Timmy Findlen
Cranky by Lindsay McCaw, Maura Gahan and others
Warning: this cranky features Hundreds of Wild Animals!!
Dolly Wagglers Sample Platter: 2011-2013
This sample includes moments from:
The "Sardine Circus," "Polka your Finger out Polka," "Everything in Moderation all at Once Cranky" and "Bavarian Folk Tale" (scroll down for full Bavarian Folk Tale footage)
A Dolly Wagglers Classic: "Bavarian Folk Tale" from Great Small Works Toy Theatre Festival 2013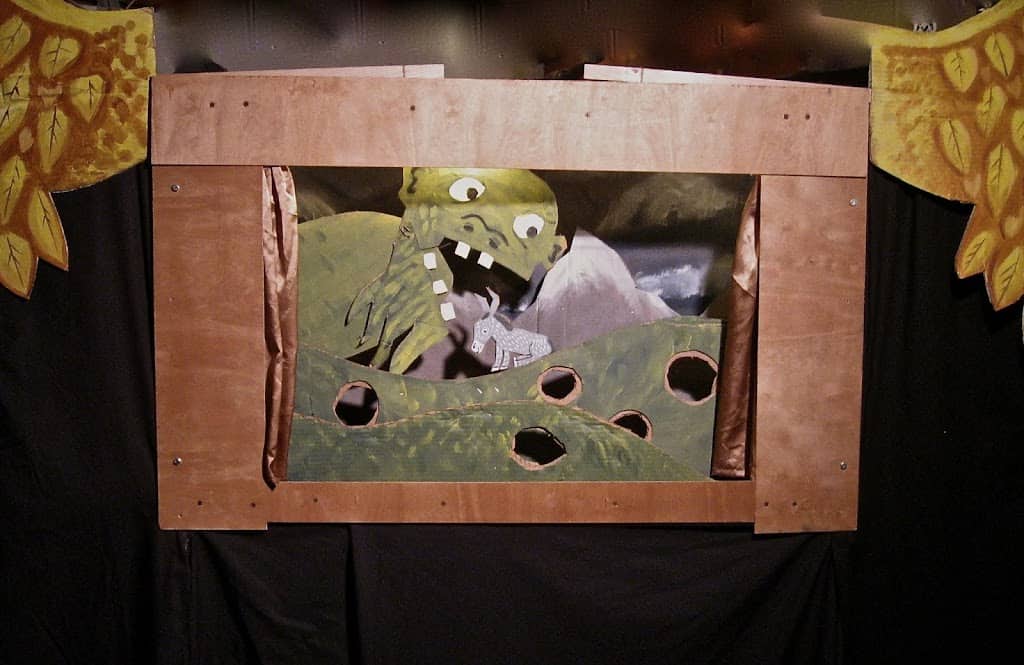 Bavarian Folk Tale is a comical/satirical tale of a wandering group of miners who come in contact with the forces of nature.
See the show here! Note: this performance had some technical/sound issues and does not feature the original cast. We are happy to have it as a document.